tempelton© I cute cabins
Unique round wooden eco cabins inda green, on your park or as a garden office.
Distinctive, highly sustainable, bio-based, affordable & in various models ✨
Looking for an elegant eco home but so far you only find wooden containers?
Do you care about staying warm and comfortable all year round in your high-quality insulated accommodation?
Do you see the relationship between value per m2 and price per m2?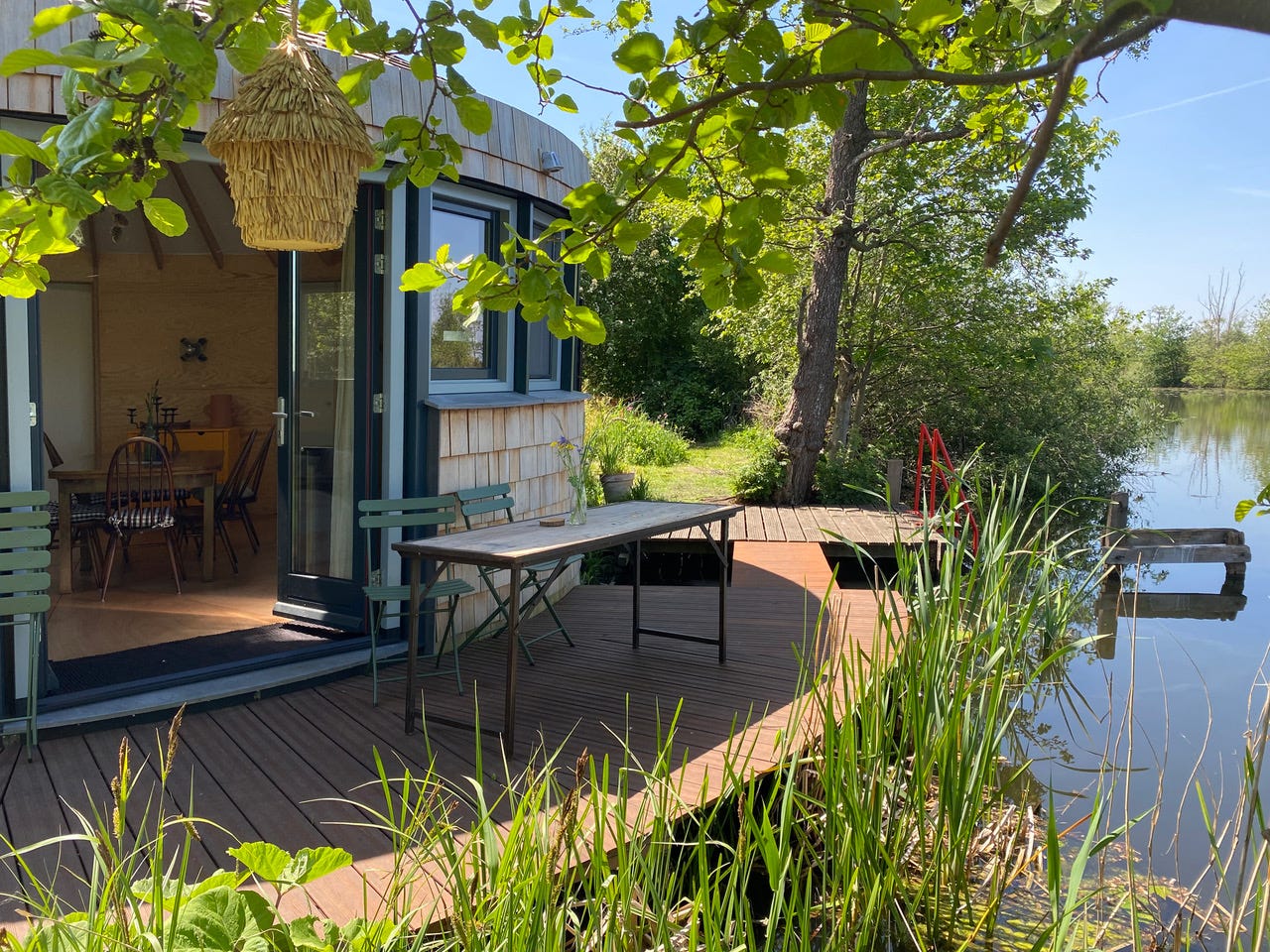 tempelton experience
The perfect outdoor living space allows you to fight free from the functional coat that a home can be. It should set modestly, in balance with its surroundings. But with a focus on experience. Experience of space, light, sound, smell and material. Easily said of course, but tempelton© ticks all these boxes. The space curves around and up to a central point of light, an oculus, like a yurt. The spot of light projects itself into the room along the wooden rafters like a sun clock. This complements the light entering through the concentrically placed windows. These also provide you with a panoramic 180º view outside. The smell of the cedar wood completes the experience. This proven roof and wall cladding is untreated and extremely durable. :-). You sleep in one of the two king-size beds. Naturally, a bathroom and kitchen are also included, depending on the type and personal wishes. Who wouldn't want a tempelton© in their park or garden?


fantastic experience quality, due to its shape, height and central skylight
180º panoramic view through the continuous windows
because of its round shape easy to orientate and fit into its environment
strong and light as a yurt, constructed like a 3D puzzle
various models and sizes available for different functions
prefabricated & quickly installed and, if necessary, moved again
optimally recyclable, made entirely of sustainable and natural materials
95% wood and therefore virtually a zero carbon footprint
manufactured by a team of enthusiastic and reliable craftsmen
special design with distinctive character
not cheap, but affordable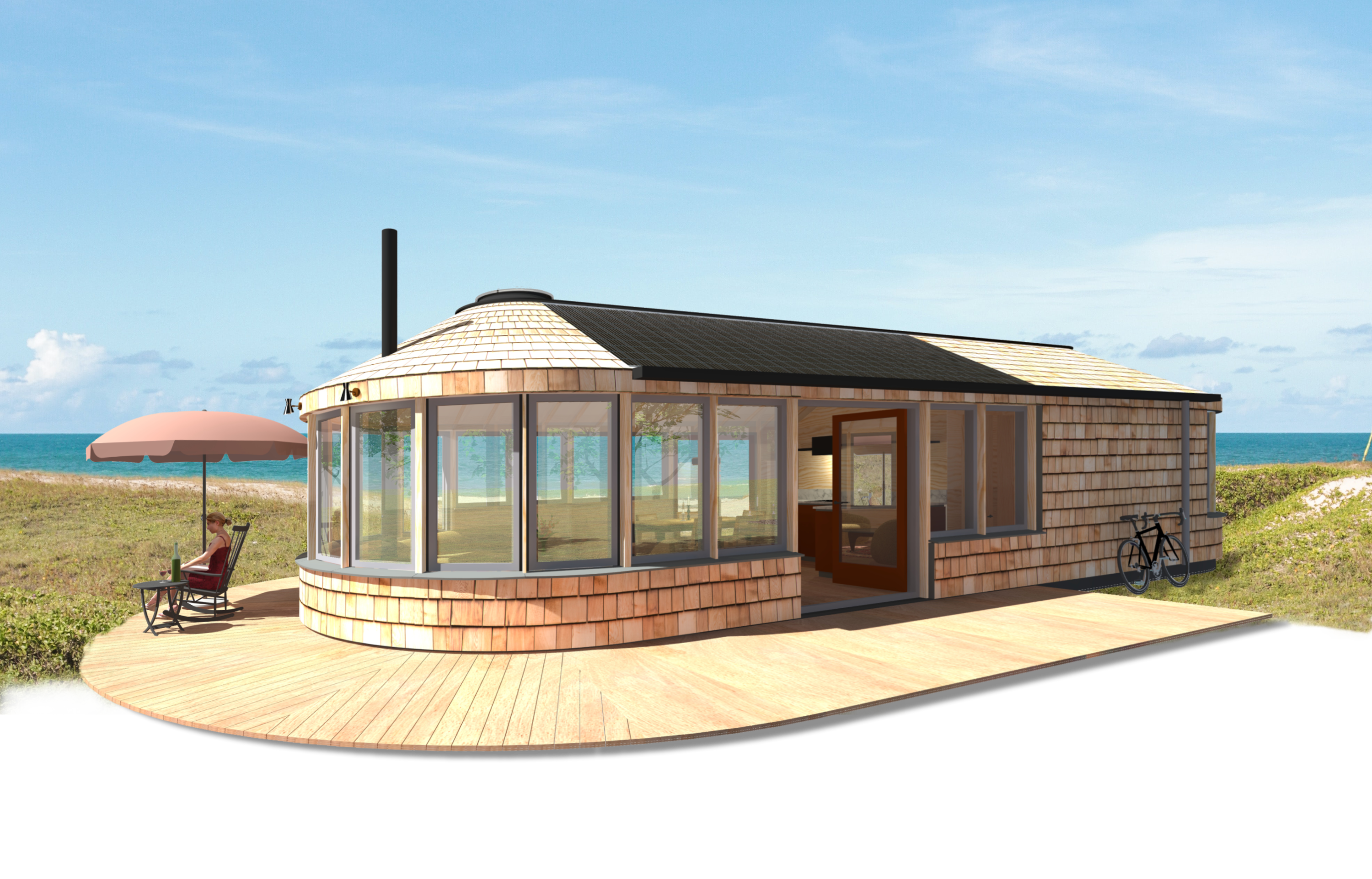 We bouwen prefab voor particulieren met grote of kleine tuin, in de stad, het dorp, 't platteland of de natuur.
&
We bouwen voor bedrijven en organisaties, per stuk of desnoods meer, op uw recreatiepark, of andere locatie naar keuze.
&
We denken graag mee met speciale initiatieven met permanente of tijdelijke bestemming, als paviljoen of hub.
um...round ? yeah sure !
A round home has no boundaries, no visual obstacles, no corners. Your surroundings panoramic around you. You move fluidly along the wall. That does something to your peace of mind; it relaxes. Those who strive for a healthy living environment seek rest, relaxation, entertainment, beauty and connection. With each other and the environment. Tempelton was designed with this in mind. Curved walls had always had the image of being expensive and impractical. Since the development of computer-controlled sawing and milling machines and new wood building technology, this notion has been definitively outdated. In construction as well as experience, this actually proves to be an added value.
And of course, our "cabins" are CO2-neutral with high-quality eco-friendly insulation, good humidity and ventilation.
different wishes, different sizes
√ prefab
All tempeltons are prefabricated under the best conditions. Thus, work can always and efficiently continue and we guarantee the health of our craftsmen.
√ round but affordable
Inspired by the construction of a yurt and the experience of round temples like the Pantheon. And yet, thanks to new manufacturing technologies, not cost-prohibitive.
√ green
All wood, from interior finishing, construction and insulation to exterior finishing and therefore with minimal environmental impact. Wood is relatively light, strong and easy to work with. Moreover, it provides CO2 storage.
√ renewable
At the end of its life cycle, a tempelton can be disassembled and recycled.
√ HR++ glass
Supplied with high efficiency glazing as standard
√ high quality insulation
Insulated with natural insulation with high thermal resistance for optimal comfort and low energy costs.
√ permissible

Built according to the standards of the Dutch building code (lodging function). In many cases to be placed permit-free.
√ movable

On a steel chassis with wheels and thus movable.
√ gas-free

A tempelton is fully electrically feasible.
√ flexible in installations
The choice of heating and hot water system is often dependent of use and location. This is why we offer customized choices.
the designer
Tempelton© was founded in 2023 by experienced Amsterdam based designer and interior architect Rogier van der Bilt. In his design practice, the importance of awareness of man and his (built) environment became clear. Naturally also because of nitrogen deposition, CO2 emissions and fossil energy, but mainly for the benefit of the entire quality of our living environment. Optimal indoor and outdoor experience, nature inclusiveness, healthy indoor climate, comfort, light and air, perspective, renewability are just as important. That determines the value of a building.
the makers
Tempelton© is built by a great team of builders, or should I say craftsmen. Located in the East of The Netherlands, they are called Oosthuis BV Doetinchem. This ambitious firm is dedicated to make the best quality wooden pre-fab homes. Healthy living, sustainability and minimal carbon footprint are only basic requirements in their business philosophy. Their capacity in work space as well as employees guarantees flexibility and work flow.